In today's market, accuracy and close tolerances are required to meet the complexity of newer model replacement convertible tops. The quality control methods developed and implemented over the years in our OEM program are now an integral part of our aftermarket production process.
History of E-Z On Auto Tops
E-Z ON was founded in 1989 in Paterson New Jersey. In 1999, E-Z ON purchased the assets of Amco's aftermarket division, which expanded its import car line and fueled further growth into that market. After the purchase of Amco, E-Z ON needed a production facility capable of handling its increased order volume and in the winter of 2000, E-Z ON relocated its production facility to Iva, South Carolina.
Once established in South Carolina, E-Z ON became involved in an Original Equipment Program (OEM) to produce convertible tops for the C-6 Corvette production for Chevrolet. New manufacturing processes were put in place in order to meet the production and quality requirements for this type of production and after a successful three years, E-Z ON shifted its focus back to aftermarket production.
E-Z ON maintains quality and attention to detail by its use of experienced personnel and our state of the art computerized cutting equipment. In addition, we have invested in hot air welding equipment which we use to seal and waterproof current materials that are a requirement for the newest types of acoustic toppings.
E-Z ON Product Knowledge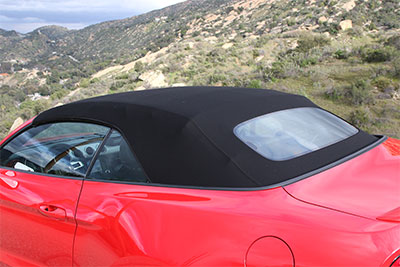 Each of our engineering staff members has over 35 years of experience in design, development and manufacturing in the automotive top industry.
E-Z ON Auto Tops uses only premium quality materials manufactured by the Haartz® Corporation, a well-known OEM supplier to the replacement convertible tops industry and auto headliners manufacturer. We receive fabric from both their domestic facility located in Acton, Massachusetts as well as their facility in Mannheim, Germany.
In order for our products to meet or exceed the expectations of our customers, E-Z ON designs, develops, installs, and tests all of its products. By installing its products at its facility, E-Z ON ensures that it can provide superior support to customers with installation questions.
Now armed with precision patterns and state-of-the-art equipment, E-Z ON Auto Tops, LLC enters the new millennium as the best source for virtually every application, domestic and import car.
With precision patterns, state-of-the-art equipment, and experienced personnel, E-Z ON works to exceed the expectations of customers.